eBird—An invaluable learning tool
A basic understanding of status and distribution of bird species is an invaluable identification skill but often one of the last skills that any birder develops. There is a relatively new and rapidly growing program called eBird that is revolutionizing the way "that the birding community reports and accesses information about birds." An understanding of the status and distribution of each bird species known to exist in North America has never been so conveniently and thoroughly facilitated.
To see what eBird is all about, follow these simple steps:
1. Navigate to www.ebird.org in an internet browser.
2. Click Explore Data in the horizontal navigation bar.
3. Click Bar Charts on the View and Explore Data page that pops up.
4. Choose a Location from the bar chart creation page.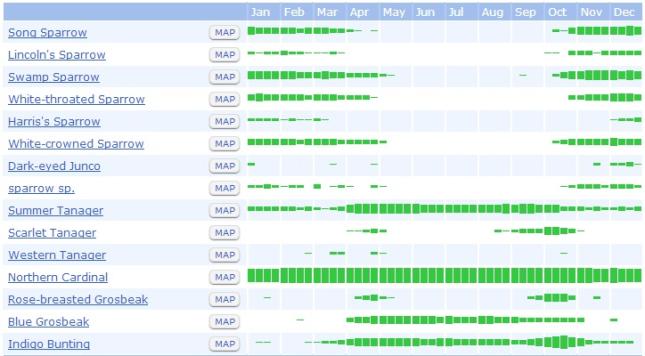 The figure to the left is a small selection from a bar chart that I created for Florida-Alachua County.
The green bars refer to the relative abundance of each species.
They are separated by month and there are four bar slots for each month of the year.
Clicking the Map button will bring you to a map like this next one, specifically dedicated to observations of Indigo Bunting.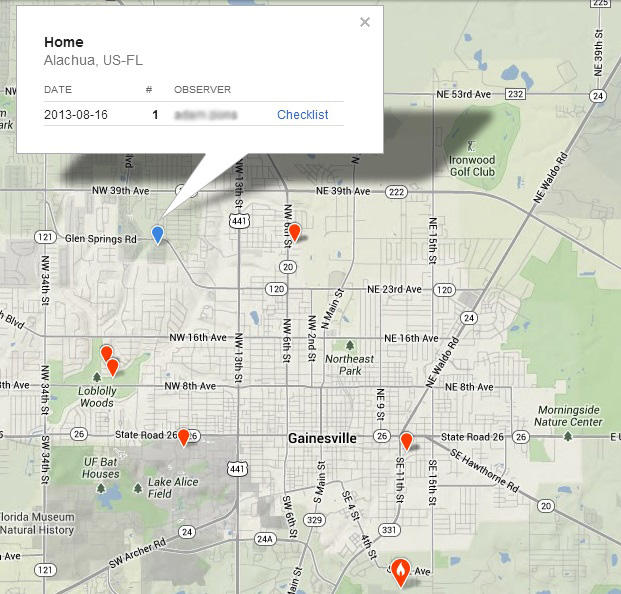 In producing maps like this one, it helps to become familiar with the date range flyout menu (not shown here). eBird populates maps with data from all years. To see what has been happening more recently, you will want to enter the date range that you desire to study. I used the date range flyout menu to select observations from August-November of the current year only.
You may submit your own observations if you open an eBird account. For help learning eBird, visit us in the store or go to www.ebird.org.