The return of the American Goldfinch - "The Pause" breaks
The Goldfinch Pause has broken albeit weakly. Just a few weeks ago, we saw the beginning of The Pause - the annual false migration of American Goldfinches away from feeders as they favor the soft, spring greens of budding hardwood trees to seed and suet of backyard feeders. As of late February, goldfinches are returning for their final flourish at feeders before their true migration begins later in March.
We've been discussing The Goldfinch Pause with customers for years to dissuade them from taking their feeders down when this false migration begins to occur but we've never been able to see The Pause represented graphically until now. Using the Cornell Laboratory of Ornithology's eBird, you can now see graphs of bird distribution and abundance. In the case of the American Goldfinch, you can now also see The Pause.
I posted this video tutorial on using eBird to see The Pause a few weeks ago and today I posted this video tutorial on using eBird to see its end.
Hummingbirds migration begins in late February

Ruby-throated Hummingbirds begin arriving on our Gulf Coast toward the very end of February. We usually start hearing reports around Gainesville in the first week of March. If you put your feeders away for the winter, it's time to make nectar and put them up.
Despite popular belief, hummingbirds do not siphon nectar with their bills nor do they gather nectar in tongue grooves by capillary action. They actually lap up nectar with an array of tiny hair-like traps lining each section of their tongues. The tongue is thrust into the nectar source at up to 12 times a second. The trapped nectar is drawn up and into the mouth each and every time. You can see amazing footage of hummingbird tongues on the First Flight DVD we sometimes play (and sell) in the store.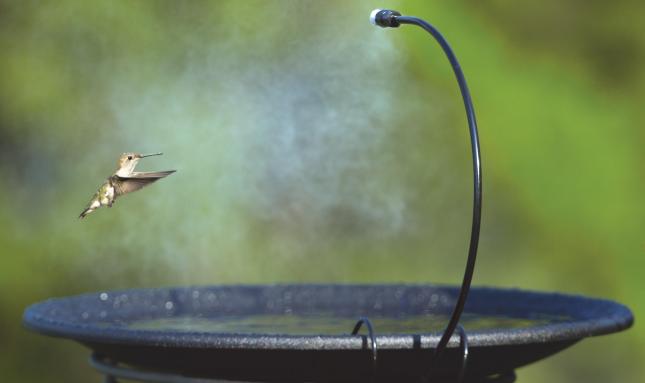 Attract hummingbirds to your yard by planting nectar producing plants and offering a nectar solution of four parts water to one part granulated cane sugar. Change the nectar and wash your feeder every three to four days (more often in hot weather). Never add red food coloring, honey, or artificial sweeteners. Also, hummingbirds love a water mister, especially when they are set up to spray into foliage.
Last year we brought in Nectar Defender, an all natural additive that keeps nectar fresh for longer periods. Its safety has been studied and reviewed by multiple reputable scientific organizations and is the first nectar additive we've ever been willing to sell. Nectar spoils especially quickly in Florida. Nectar Defender prolongs the life of your nectar making it safer for your birds and less hassle for you.
Nesting Season is here
Whether it's the Carolina Wren in your potted plant or the Carolina Chickadee in your nesting box, for a few of our breeding residents, nesting season is on! If you've enjoyed the activity at your feeders then you'll love being a host to a bird family.
Our nesting boxes are designed to accommodate birds on a species by species basis. Cavity entrance diameters, depth, and width are optimized for the breeding success of the species meant to occupy them. We have nesting boxes in stock for almost every species of bird that will occupy a nesting box in our area.
We are also well versed in what it takes to successfully host a bird family. If you don't know which species are possible in your yard, then come in and talk through your habitat with us. Bring in pictures of your yard and we can help you choose the right types of nesting box and work through the process of placing them and keeping them in good repair.
Don't forget the nesting material! It's very rewarding to watch adult birds pull filaments from a ball of fiber. We have raw cotton or Alpaca nesting balls and "hummingbird helper" nesting material specifically designed for hummingbirds (but other birds will use it too).
2017 Pints & Predators
Wild Birds Unlimited hosted our annual Pints and Predators fundraiser for local wildlife rehabilitators at First Magnitude Brewing Co. in Gainesville and for the second year running it was a great success. We collected donations at the door and raised over $4000 for the rehabilitators who brought educational birds and mammals to the event. Thank you Avian Reconditioning Center, Florida Wildlife Care, Inc., Sunrise Wildlife Rehabilitation, and Lubee Bat Conservancy.
Learn More About
Local Bird Videos
Technology has brought a new dimension to the enjoyment of birdfeeding and birdwatching at Wild Birds Unlimited. Now, you can enjoy highly entertaining videos of local bird activity shot with our own GoPro action camera by subscribing to our Facebook and Youtube pages and by checking our store website frequently for updates to our Local Bird Videos page.
Bird news on Facebook
WBU of Gainesville has a Facebook page for birding and feeder news. Check it out!