4212 NW 16th Boulevard
Gainesville, FL 32605
Down from Fresh Market

(352) 381-1997
Open Today Until 6:00 pm
| | |
| --- | --- |
| Monday | 10:00 am - 6:00 pm |
| Tuesday | 10:00 am - 6:00 pm |
| Wednesday | 10:00 am - 6:00 pm |
| Thursday | 10:00 am - 6:00 pm |
| Friday | 10:00 am - 6:00 pm |
| Saturday | 10:00 am - 6:00 pm |
| Sunday | 11:00 am - 4:00 pm |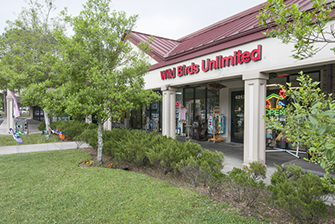 Bubba & Ingrid Scales Franchise Store Owners
View Our Store Site
Weather Guard and Feeder Fresh Sale through August 5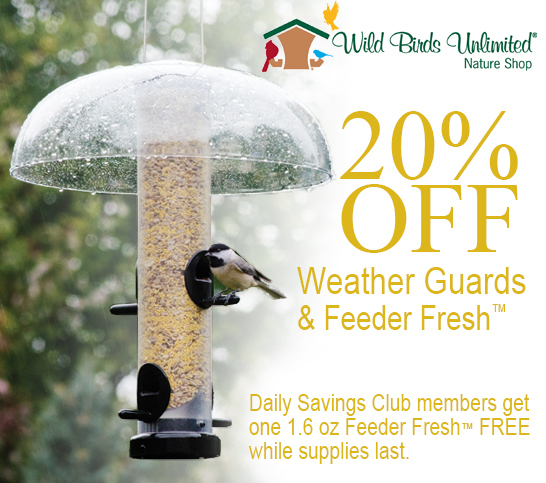 Now through August 5, get 20% off all weather guards and Feeder Fresh™ products. Rainy weather isn't necessarily a problem for birds but it can lead to a lot of rotten birdseed and clogged feeders. Combat mold and reclaim your feeders for your birds! Reduce the amount of moisture that reaches your feeders and keep the seed in your birdfeeders flowing so that the birds keep flowing into your yard.
Feeder Fresh is a granular silica dioxide that is poured into the base of an empty feeder before the feeder is filled with seed. Once filled, the Feeder Fresh granules absorb moisture that enters the seed compartment keeping the seed fresh for a longer period of time.
Daily Savings Club (DSC) members – Pick up one free 1.6 oz. package of Feeder Fresh while supplies last and enjoy the difference it can make in the cleanliness of your feeders and the freshness of your seed.