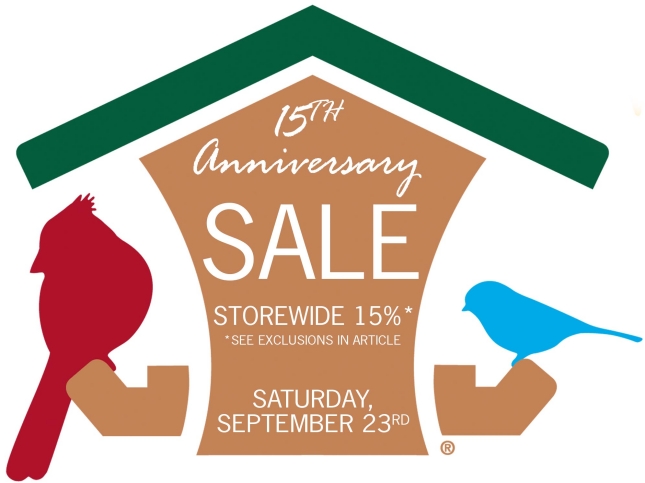 Join us in the store on Saturday, September 23rd for the Irma-induced redo of our first ever 15% storewide sale including the classic Eagle Optics Ranger line of binoculars (*excludes most optics, DSC memberships, gift cards, and previous purchases). We are also extending the Fall Seed & Suet Sale through Saturday, September 23rd. Our mission statement for the last 15 years has been to "improve quality of life by helping people connect with and enjoy nature through our love and knowledge of nature, exceptional customer service, and quality products." We hope we achieved that for every one of you and we can't thank you enough for supporting our business and family for all these years.
Seed & Suet Sale Specials
Einstein the Great Horned Owl
Sunrise Wildlife Rehabilitation featuring Einstein the Great Horned Owl from 11-1 on Saturday, September 23. Hurricane Irma was tough on wildlife. We've been keeping licensed wildlife rehabilitators in mind during our own storm recovery. Stop in on Saturday from 11-1 and hear what Joe Soistman of Sunrise Wildlife Rehabilitation has to say about the life of a wildlife rehabilitator in the days after a major storm event.
Visit our Facebook page and our YouTube page to see videos we've posted about storm preparation and storm recovery. The photo is Ingrid with Einstein on the glove during a previous event at the store.

Support wildlife with chance to win
Now through September 30, donate $5 to Sunrise Wildlife Rehabilitation and earn a chance to win this fabric collage and batik quilt by local artist and long-time WBU customer Joyce Lottinville.
Each $5 donation earns you one chance to win. There are no limits to the number of $5 donations and chances to win that any person can purchase. We will draw the winner by random number generator on Saturday, September 30 at 5:00pm. You do not need to be present to win. Come check out the quilt in the store.
All year long, we field calls from people who are trying to figure out how to help sick or injured birds, especially during breeding season. Many of those calls end up being handled by a local, licensed wildlife rehabilitator. In addition to nursing wildlife back to health when possible, rehabbers also share their knowledge by offering educational programs where we can get closer views of animals that aren't able to return to the wild.
Learn More About
Local Bird Videos
Technology has brought a new dimension to the enjoyment of birdfeeding and birdwatching at Wild Birds Unlimited. Now, you can enjoy highly entertaining videos of local bird activity shot with our own GoPro action camera by subscribing to our Facebook and Youtube pages and by checking our store website frequently for updates to our Local Bird Videos page.
Bird news on Facebook
WBU of Gainesville has a Facebook page for birding and feeder news. Check it out!