Missing Something?
Where are my birds? Feeder bird activity always decreases at the end of breeding season but this year's decrease has been the most severe in many years. Why? Well, there are three main reasons of which we can be relatively sure.
First, warm weather throughout most of North America has allowed some of our overwintering birds to linger further north well into the fall. So, winter feeding activity hasn't picked up as quickly as it usually does.
Second, there seems to be plenty of natural food available. Many of our feeder species shift their food preferences to seeds and nuts that come available in the fall.
Third, breeding season was good. There were a lot of young cardinals, titmice, chickadees, etc. As those young birds grow they become more and more active at feeders while still associating with their family groups and so the activity level hit a crescendo late summer. When feeder activity slowed so much around mid to late-August, the effect was amplified by occurring on the heels of a great summer.
What should you do? Stick with it but cut back a bit on the amount of seed and suet that you put out until the birds start moving it again. This feeder drought will break and it will probably happen soon. You want to be ready when it does but if your feeders are full of stale or even rancid seed and suet, the birds won't be as likely to use them once they've returned to your yard.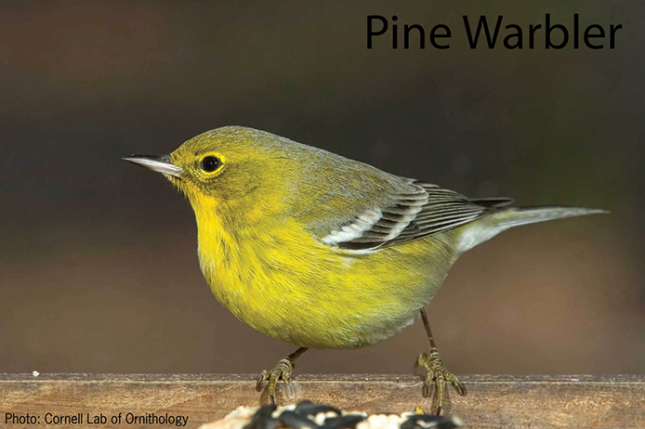 A water feature is also a critical bird attractor when feeder activity is slow. Now that natural sources of water have begun to dry a water feature can be the highlight of your yard.
In our own yard just in the past couple of weeks, the birdbath has been far busier than any of the feeders, especially when we have the drip going. We've had visits from White-eyed Vireos, Gray Catbirds, a Blue-headed Vireo, a Northern Parula (Warbler), a Pine Warbler, a Yellow-throated Warbler, and, of course, cardinals, titmice, and chickadees.
Runamok Maple Bird-Friendly Maple Syrups
Vermont Audubon now has a program to promote sugarbush management that's good for birds and forests. From Vermont Audubon's website: "Park-like monocultures may appeal to our tidy aesthetic and increase sap production over the short-term, they support relatively low numbers of birds and bird species. In contrast, biologically and structurally diverse sugarbushes offer great places for birds to forage, find cover, and raise their young."
Not only that, these are top tier maple syrups that you just can't find in your grocery store. Next time you're in WBU, make sure to get a sample of the base product, known as Sugarmaker's Cut, and each of the infused flavors that we carry. We run out of one flavor or another from time to time but here is a list of what should be in stock now through the holiday season: Bourbon Barrel-Aged, Cinnamon-Vanilla, Elderberry, Hibiscus Flower, Makrut Lime-Leaf, Ginger Root, Merquén Pepper, and Cardamom. Pair them with cheeses, sweeten a mixed drink, or find your own novel use. These syrups are exquisite and unique.

Holiday Hours
Closed 11/23 & 11/24
First three Sundays in December 11am—5pm
12/18-12/23, 10am—7pm
Christmas Eve, 12/24, 9am-2pm
Closed Christmas and New Year's Day
Coming, Going, or Just Passing Through
Feeder activity slows down a bit for most of us just before overwintering birds begin to arrive in Florida. Here is a summary of the more common feeder birds whose activity varies due to migration.
| | |
| --- | --- |
| American Goldfinch - A winter resident that begins to return in mid fall but doesn't build at feeders until winter. Favorite food is oil sunflower but prefers nyjer closer to spring migration. | |
| Baltimore Oriole - Migrants move through in late summer and early fall and overwintering birds return in November. Favorite food is fruit (oranges, grapes, jelly, etc.), suet, and nectar. | |
| Chipping Sparrow - Winter resident arrives in October and builds consistently into winter. "Chippies" can form large flocks. Favorite food is millet. | |
| Yellow-rumped Warbler - One of the most abundant overwintering birds but unpredictable at feeders. Can become very regular at feeders in small numbers. Favorite food is insects, suet, and Bark Butter. | |
| | |
| Hummingbirds - Most of the hummingbirds that stay in Florida and other parts of the United States in winter are not Ruby-throated (right). That distinction belongs to the Rufous Hummingbird (left), a species that breeds in the Pacific NW. Leave a nectar feeder up! | |
| Indigo Bunting - Migrates through in large numbers in September and October and can be regular at feeders during migration. Favorite food is millet and oil sunflower. | |
| Rose-breasted Grosbeak - A regular migrant throughout the fall. Many regular birdfeeders have seen a grosbeak at some point but none of us can predict what will happen year after year. They usually only stay a short time before continuing on south. The male (top) and female (bottom) look very different. | |
| The bright red chest of the male makes it a pretty easy identification for most, but the female is more drab and difficult to identify. We get a lot of calls at the store during migration to identify female Rose-breasted Grosbeaks. Favorite food is black oil sunflower and chips. | |
Learn More About
Local Bird Videos
Technology has brought a new dimension to the enjoyment of birdfeeding and birdwatching at Wild Birds Unlimited. Now, you can enjoy highly entertaining videos of local bird activity shot with our own GoPro action camera by subscribing to our Facebook and Youtube pages and by checking our store website frequently for updates to our Local Bird Videos page.
Bird news on Facebook
WBU of Gainesville has a Facebook page for birding and feeder news. Check it out!