Winter Birdfood Sale - November 7th-15th
Fall is a time of transition at feeders. The large flocks of breeding residents that build up in our backyards through the summer disperse and often leave our feeders impoverished of bird activity until overwintering species begin to arrive and form new flocks. Presently, most of us are in the middle of that feeder recession, waiting more-or-less patiently for things to change for the better, but let's not sit idly. There are things we can do to maintain some activity from our usual suspects and to prepare for the arrival of overwintering birds.
Our Winter Birdfood Sale from November 7-15 features our favorite winter seeds and blends: White Deluxe Plus, Finch Blend, White Millet, and Nyjer.
American Goldfinch love Nyjer but Finch Blend, featuring 50% fine oil sunflower chips, is at least as appealing to goldfinches until migration approaches and molt begins. Finch Blend also allows you to dispense Nyjer in an all-purpose feeder whereas straight Nyjer requires a specialty tube feeder or tray.
Chipping Sparrows prefer White Millet which is a component of White Deluxe Plus. Chipping Sparrows are most numerous in agricultural areas outside of town and in mature pine forests. There, you can often find flocks numbering in the dozens. If you are lucky enough to have that kind of Chipping Sparrow activity then it might be a good idea to have a dedicated Millet feeder or two in order to accommodate those larger flocks.
Baltimore Orioles are widespread across the area every winter but sporadic and varying in density from yard to yard. Orioles have an affinity for nectar, suet, and fruit, often gathering in yards where feeder enthusiasts consistently offer orange halves, grapes, or jelly. Based on years of customer experience, orioles are now known for their preference of peanuts and tree nuts in this area. White Deluxe Plus has both.
Hummingbirds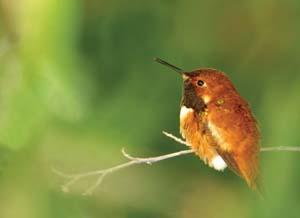 The Ruby-throated is the only species of hummingbird that breeds east of the Mississippi River and the vast majority of them have already departed for wintering grounds in Mexico and Central America. They'll be back starting in the first week of March but we won't be completely without hummingbirds this winter. Each winter, we find somewhere on the order of several dozen individual hummingbirds spread across the Gainesville area. A few of those are Ruby-throateds but the majority are actually Rufous Hummingbird, a species that breeds in the Pacific Northwest.
Contrary to popular belief, leaving a feeder out in winter does not cause a hummingbird to stay behind when it should have migrated. In fact, the Rufous Hummingbird's breeding season conditions are often more severe than our winter conditions.
There aren't many hummingbirds in our area during the winter so your chances of seeing one are low but they're certainly better than if you don't leave a feeder out at all.
In addition to Ruby-throated and Rufous, the following species of hummingbird have been documented at least once during winter in Alachua County – Buff-bellied, Black-chinned, Calliope, Allen's.
Coming, Going, or Just Passing Through
It's that time of year when we start to see changes at the feeders. Here is a summary of the more common feeder birds whose activity varies due to migration.
| | |
| --- | --- |
| American Goldfinch - A winter resident that begins to return in September but doesn't build at feeders until several months later. Favorite food is oil sunflower but prefers nyjer closer to spring migration. | |
| Baltimore Oriole - Migrants move through in late summer and early fall and overwintering birds return in November. Favorite food is fruit (oranges, grapes, jelly, etc.), suet, and nectar. | |
| Chipping Sparrow - Winter resident arrives in October and builds consistently into winter. "Chippies" can form large flocks. Favorite food is millet. | |
| Yellow-rumped Warbler - One of the most abundant overwintering birds but unpredictable at feeders. Can become very regular at feeders in small numbers. Favorite food is insects, suet, and Bark Butter. | |
| | |
| Hummingbirds - There are dozens of hummingbirds in the area in winter. Most of those are not Ruby-throated (right) which start to head south in late August. Most are Rufous (left), a species that breeds in the Pacific NW. Leave a nectar feeder up! | |
| Indigo Bunting - Migrates through in large numbers in September and October and can be regular at feeders during migration. Favorite food is millet and oil sunflower. | |
| Rose-breasted Grosbeak - A regular migrant throughout the fall. Many regular birdfeeders have seen a grosbeak at some point but none of us can predict what will happen year after year. They usually only stay a short time before continuing on south. The male (top) and female (bottom) look very different. | |
| The bright red chest of the male makes it a pretty easy identification for most, but the female is more drab and difficult to identify. We get a lot of calls at the store during migration to identify female Rose-breasted Grosbeaks. Favorite food is black oil sunflower and chips. | |
Bark Butter
Suet can be tricky since it often takes a long time for birds to start using it but it can be very, very rewarding once the activity does begin. Bark Butter is a spreadable suet that allows you to turn most any tree in your yard into a birdfeeder. Use a fork to spread Bark Butter onto tree bark or a specialty feeder or create suet chunks that can be scattered in most hoppers, fly-through, or tray feeders. Having Bark Butter in close association with reliable seed feeders often helps birds find the suet more quickly. Spreading Bark Butter on trees increases your chances of broadening the array of birds that feed in your yard.
Use Bark Butter this winter to increase your chances of seeing winter specialties such as Baltimore Oriole or to bring in birds that usually don't use feeders at all such as Yellow-rumped Warblers. The list of birds known to use Bark Butter across North America is now greater than 120 species. Click here to see the entire list. Will your yard be the next to contribute a new species to the list?
Bird news on Facebook
WBU of Gainesville has a Facebook page for birding and feeder news. Check it out!