We've moved! New Hours!
We have moved to our new location next to the Flying Biscuit in the shopping center with The Fresh Market. Our Sunday hours have changed to 11am-4pm. Monday through Saturday are hours are still 10am-6pm. Hope to see you in the new store soon!
Birders: The Central Park Effect
Join us at 7:15 pm on Tuesday, May 21 at The Hippodrome for a special viewing of this well reviewed documentary of birding and the birding community of New York City's Central Park.
After the show, join us in the Cinema Lounge for an open discussion about the movie and mingle with some of Gainesville inveterate birders.
The Hippodrome is located at 25 SW 2nd Place in Downtown Gainesville. 352-375-4477. Click here for more information.
Summer Sidewalk Sale—June 1st & 2nd
Many of you know that we go to two buying markets during the year. One is in June and we like to clear things out to make room for new exciting products! Drop by for the sidewalk sale to get some deals then visit us later in the summer to see what cool new things we found at the June show.
WBU Dinner Bell Feeder
Invite birds to a delicious meal with one of our favorite feeders, the Dinner Bell. Fill this versatile feeder with any of our Blends, some Bark Butter Nuggets, seed cylinders, stackables, fruit or mealworms and see how many different birds you can attract. The Dinner Bell's dome raises and lowers, allowing you to feed only the birds you want. The dome also provides birds and food protection from nasty weather. It's easy to fill and clean and comes with a lifetime guarantee.
Woodpeckers in the yard!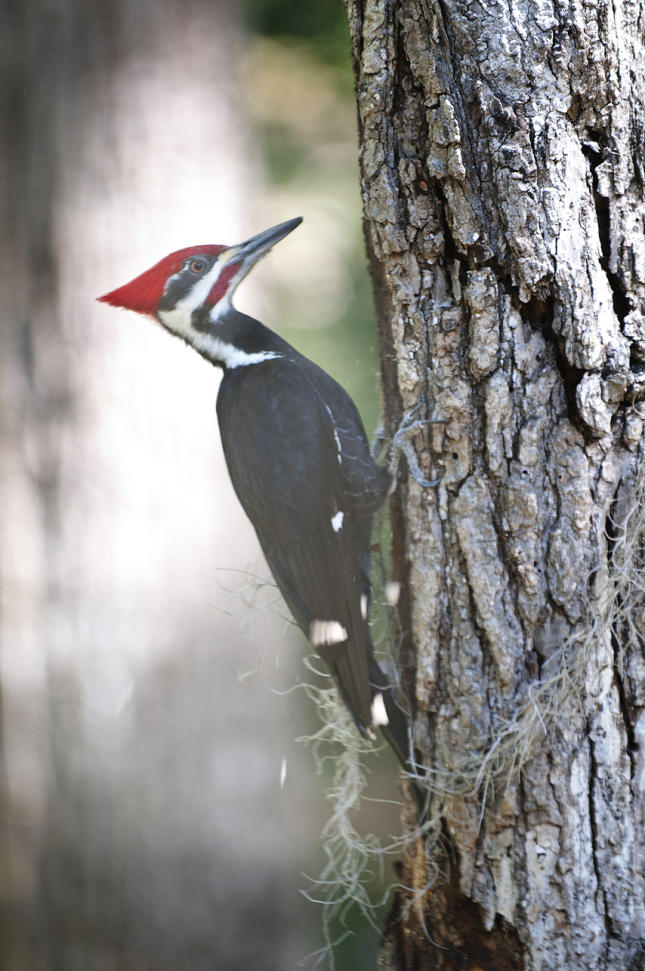 I'm a big fan of woodpeckers so I've always touted the virtues of the snag. Why cut a tree all the way to the ground and cart the wood off site when leaving some of it standing would do no harm to humans and only tend to benefit many species of bird, especially woodpeckers?
About a year ago, we had a great opportunity to practice what we preach when a patch of sweet gum trees near our kitchen window were killed by a pungent, staining water-mold of the genus Phytophthora. Instead of razing these trees to the ground, we cut each of them at a height of 10-15 feet and just let the insects take over.
In early March, a pair of Pileated Woodpeckers began flaking panels of bark from some of the trees and making quick work of the insects hiding underneath. The photo of the Pileated Woodpecker was taken through the window of our home office.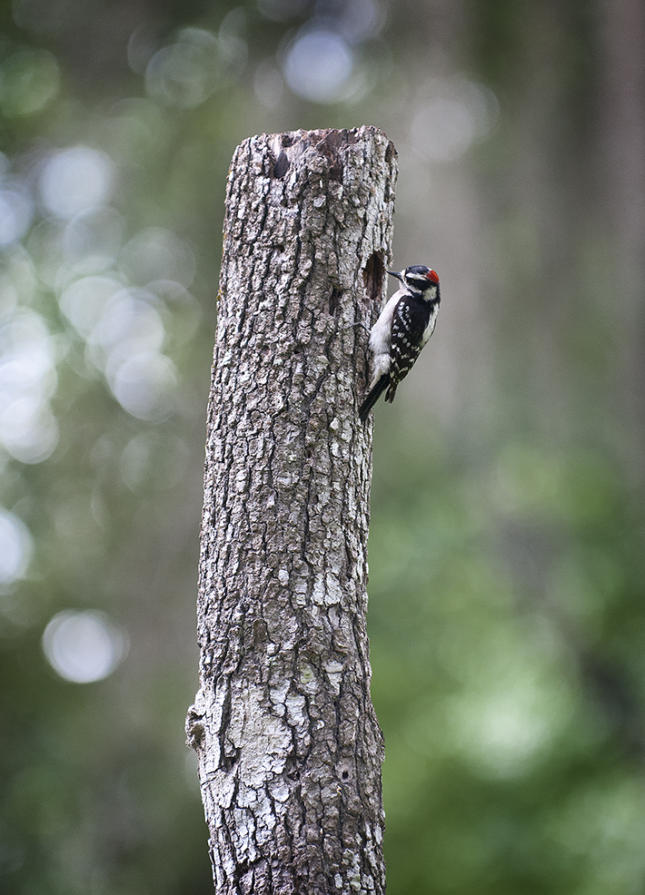 Last week, a pair of Downy Woodpeckers began excavating a cavity about six inches from the top of one of the snags closest to the kitchen. We watched the male work his way deeper and deeper into the cavity over the course of a few days.
We made video of the female's first visit to the cavity-in-progress. She approved of his work and a series of mating behaviors ensued and continues today.
Follow us on Facebook to see updates on the progress of our Downy Woodpecker family.
From the Feeders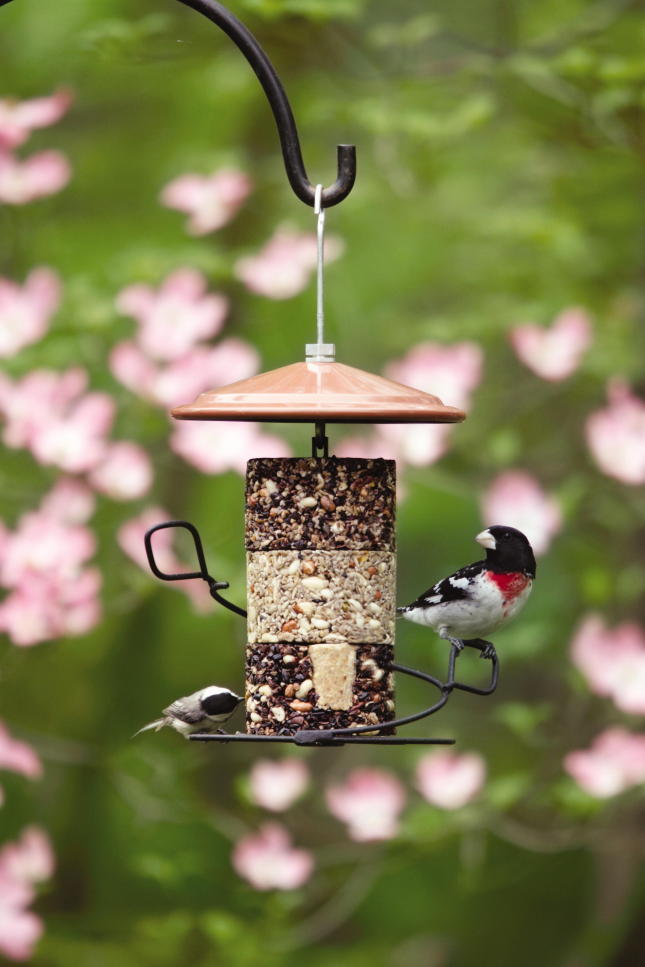 Western Tanagers, Red-breasted Nuthatches, and a Buff-bellied Hummingbird! Are we in Florida?
This past winter has been one of the best I remember from the standpoint of uncommon and downright rare feeder birds. The Red-breasted Nuthatch was the story of the season for most of the winter. A rare winter visitor with about 20 verified reports in the county in 20 years, we had surpassed that total by mid fall. Levy County had its second ever record of Buff-bellied Hummingbird, a Gulf Coast migrant from Mexico that seems to be expanding its range eastward. Alachua County has one record. Western Tanagers were well documented at two different area feeders on overlapping dates. I wonder how many more we missed.
Migration is in full swing now. These winter rarities have given way to an influx of Indigo Buntings, Rose-breasted Grosbeaks, Gray Catbirds, and more. Keep watching those feeders but don't forget to look beyond. So much more is happening in the space beyond the feeders.
Ingrid, Bubba and the Crew at WBU
Ruby-throateds are back!
We are hearing reports every day of Ruby-throated Hummingbirds activity at our customers feeders. Just a couple of days ago, we scrambled to get our feeder back out after watching a hummingbird go from our flowers to the spot where our feeder normally is hanging. So get those hummingbird feeders back out!
Hummingbird Nectar Ratio - 4 parts water to 1 part white sugar Bring water to a boil and mix in sugar until dissolved.
Coming in June
No Squirrels! Sale
We had this sale last June and you loved it so we are bringing it back. We are still working on the details so keep checking here. We do know that Safflower and Nutrasaff will be on sale. During the month of May we will have free samples of both so you can give it a try before the sale. Many of us use this seed in feeders we can't squirrel proof. The seed is bitter tasting so the squirrels tend to leave it alone. It is perfect for window feeders or feeders hanging under your eaves.
Birdy news on Facebook
WBU has a Facebook page for birding and feeder news.
Check it out!