Daily Savings Club - Double Points Party!
You're Invited! May 7th, 6-8pm
It's a party just for our Daily Savings Club members! Thank you for all you have done for our store and for the birds. Join Bubba, Ingrid, and the WBU Crew for a special night of shopping just for Daily Saving Club Members.
Don't forget, Mother's Day is Sunday, May 10th. Wild Birds Unlimited is the perfect place for unusual gifts, especially where Mom is concerned. And we gift wrap for free. Just stop by, have a look around, and a chat about your birds. Not a member? You can join anytime, just ask us about it!
During this party, Daily Savings Club® members earn Double Points with every purchase. That means you reach 200 points faster and earn a $10 Bird Buck, good for a future purchase of any merchandise in the store.
*No minimum purchase required to receive Double Points, excludes optics.
How Cool is That! - Nesting
Protecting Nestlings and Fledglings
Bringing birds to your feeder can generate a lot of enjoyment but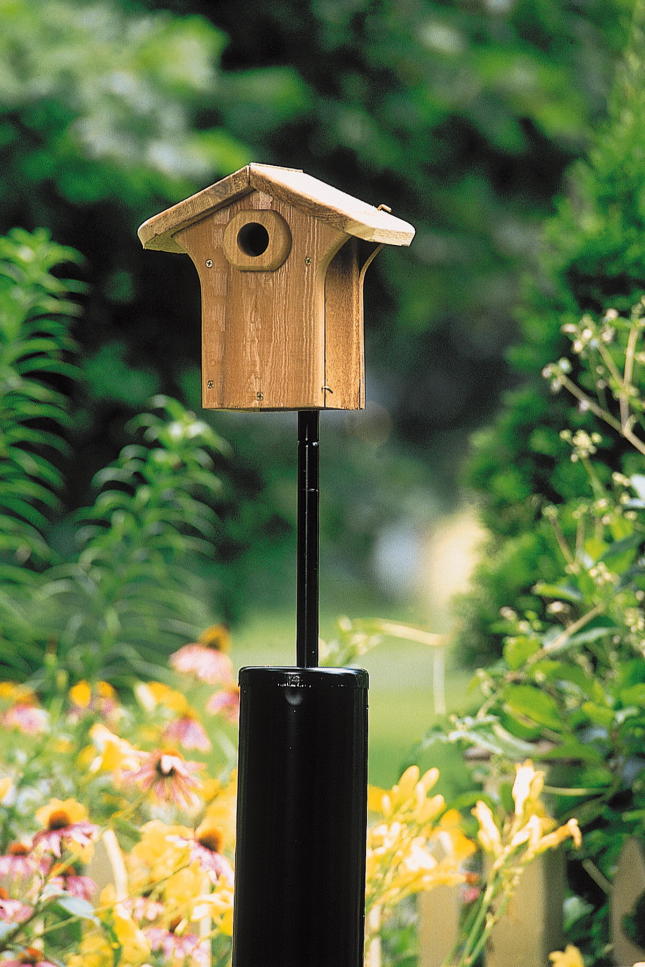 hosting a breeding family of birds can be endlessly entertaining and educational. Nest failure is a fact of life for birds but there are a few simple steps you can take to increase the likelihood that your nestlings will fledge and your fledglings will fly.
Pole-mounted and baffled—Nesting boxes are often mounted where they can't be effectively baffled against predators like raccoons or snakes. Move your nesting box to a pole to which you can affix a raccoon baffle. Our APS Bluebird Pole works great for most nesting boxes. Raccoon baffles also work well against snakes.
Mesh predator guard—These hardware cloth accessories don't keep predators from getting to the box. They just keep them from getting into the cavity as easily. Raccoons have to reach further and snakes don't like going around the out-turned metal points.
Port guard—A thin, circular strip of metal around the cavity entrance can do a lot to prolong the usefulness of your nesting box. Squirrels and relatively large bird species have a more difficult time getting into a nesting box designed for smaller species and reinforced with a port guard.
Protect fledgling areas—After leaving the nest, most species of songbird spend the first few days of their lives on or near the ground. A nest that is high enough to be safe from dogs and cats doesn't do any good for the birds after they've fledged. Keep pets away from areas under the nest where fledglings will be looking for shelter.
Leave it be—A fledgling might look like it needs to be returned to the nest but if it's feathered and alert, it probably just needs to be left to fledge on its own.
Nectar...the Recipe for Perfectly Fun Feeding
Ruby-throated Hummingbirds begin landing on our Gulf Coast toward the very end of February. We usually start hearing reports around Gainesville in the first week of March. If you put your feeders away for the winter, it's time to make nectar and put them up.
Despite popular belief, hummingbirds do not siphon nectar with their bills nor do they gather nectar in tongue grooves by capillary action. They actually lap up nectar with an array of tiny hair-like traps lining each section of their tongues. The tongue is thrust into the nectar source at up to 12 times a second. The trapped nectar is drawn up and into their mouth each and every time. How they swallow fast enough to deal with all of this nectar is still a mystery. You can see amazing footage of hummingbird tongues on the First Flight DVD we play (and sell) in the store.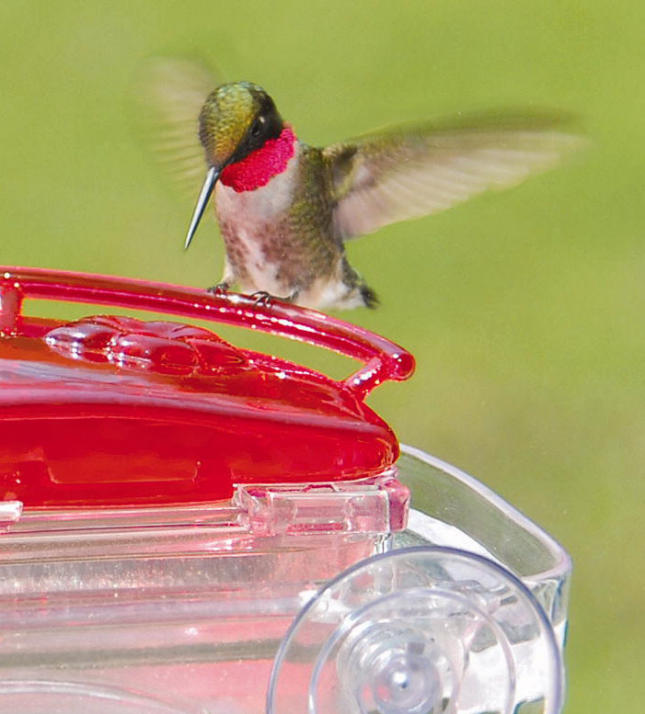 You can help hummingbirds keep their energy level up and attract them to your yard by offering a nectar solution. Mix four parts water and one part ordinary table sugar to create the perfect nectar solution. Example: (4 cups of water, 1 cup of sugar)
Change the nectar and wash your feeder in hot water every three to four days (more often in hot weather). Some of our feeders can even be washed in the top rack of your dishwasher.
If you plan to store nectar in the refrigerator, boil the water first before creating and storing your nectar solution. Never add red food coloring, honey, or artificial sweeteners.
The density of hummingbirds in Florida is a far cry from what we find further north and west. We typically prefer lower volume feeders so that we don't have to waste as much nectar once it starts to go bad. Check out our new four-ounce WBU Window Hummingbird Feeder.
Bird news on Facebook
WBU of Gainesville has a Facebook page for birding and feeder news. Check it out!