Your Backyard Counts!
Take Part in the Great Backyard Bird Count
February 12 - 15, 2016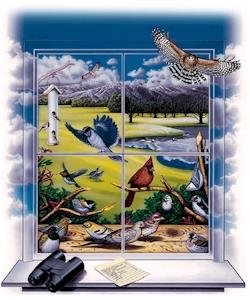 When you feed birds in your backyard, it shows that you value having a daily relationship with nature and that you are willing to take action to foster it.
Like many of us, if you have been feeding birds for a while…you probably have a reputation. Your friends, neighbors and relatives likely see you as a person who loves nature, and they value your willingness to share the joy of "your" backyard birds at a moment's notice.
Your hobby and your backyard truly count as things that are important to you.
The Great Backyard Bird Count gives you the opportunity to make them count even more than ever by participating in this annual event which links citizens with scientists in an effort to collect important data about backyard birds.
The GBBC is a joint project of Cornell Lab of Ornithology and the National Audubon Society and is sponsored by Wild Birds Unlimited. It takes place each February. Count the birds in your backyard, and then simply report the information online at http://gbbc.birdcount.org/.
Your information becomes part of an extensive data base that is analyzed by scientists to better understand important trends in bird populations, range expansions, habitat changes and shifts in migration patterns.
Make your backyard count even more for the birds when you participate in this year's GBBC. And to ensure the birds all show up to be counted, visit our store for the widest variety of great bird food products!
Sweetwater Wetlands Park
Wednesday Bird Walks
Every Wednesday at 8:30am until April, Alachua Audubon volunteers will lead a 2-3 hour walking tour of Gainesville's newest nature park. The walk is free, but there is an admission fee for the park of $5/vehicle or $2/walk in. Yearly passes can be obtained on the 3rd floor of Building B in the Thomas Center.
The Sweetwater Wetlands Park restoration project and has quickly become a regionally significant birding destination. It is located off Williston Rd near Main St.
Hummingbirds in the Winter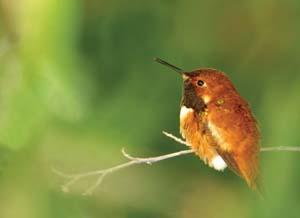 The Ruby-throated is the only species of hummingbird that breeds east of the Mississippi River and the vast majority of them have already departed for wintering grounds in Mexico and Central America. They'll be back starting in the first week of March but we won't be completely without hummingbirds this winter. Each winter, we find somewhere on the order of several dozen individual hummingbirds spread across the Gainesville area. A few of those are Ruby-throateds but the majority are actually Rufous Hummingbird, a species that breeds in the Pacific Northwest.
Contrary to popular belief, leaving a feeder out in winter does not cause a hummingbird to stay behind when it should have migrated. In fact, the Rufous Hummingbird's breeding season conditions are often more severe than our winter conditions.
There aren't many hummingbirds in our area during the winter so your chances of seeing one are low but they're certainly better than if you don't leave a feeder out at all.
In addition to Ruby-throated and Rufous, the following species of hummingbird have been documented at least once during winter in Alachua County – Buff-bellied, Black-chinned, Calliope, Allen's.
Winter Residents
| | |
| --- | --- |
| American Goldfinch - A winter resident that begins to return in September but doesn't build at feeders until several months later. Favorite food is oil sunflower but prefers nyjer closer to spring migration. | |
| Baltimore Oriole - Migrants move through in late summer and early fall and overwintering birds return in November. Favorite food is fruit (oranges, grapes, jelly, etc.), suet, and nectar. | |
| Chipping Sparrow - Winter resident arrives in October and builds consistently into winter. "Chippies" can form large flocks. Favorite food is millet. | |
| Yellow-rumped Warbler - One of the most abundant overwintering birds but unpredictable at feeders. Can become very regular at feeders in small numbers. Favorite food is insects, suet, and Bark Butter. | |
| | |
| Hummingbirds - There are dozens of hummingbirds in the area in winter. Most of those are not Ruby-throated (right) which start to head south in late August. Most are Rufous (left), a species that breeds in the Pacific NW. Leave a nectar feeder up! | |
Bird news on Facebook
WBU of Gainesville has a Facebook page for birding and feeder news. Check it out!