New Holiday Hours, Starting Dec. 9th

Monday-Saturday: 10:00 AM - 7:00 PM
Sunday: 10:00 AM - 5:00 PM
Dec. 24th: 9:00 AM - 2:00 PM
Closed: Christmas Day and New Year's Day
Preston the Penguin Seed Cylinder
Available for a limited time only, our adorable Preston the Penguin Seed Cylinder is a mix of sunflower, safflower, pecans, sunflower chips, peanuts, apricot, papaya and blueberries. Preston is the perfect addition to any yard and a great gift idea for the nature loavers on your list.
Seed Cylinders are an easy way to offer your birds a wide variety of food to get lots of birds to visit your backyard. And it's convenient, too. Just set one out and watch. Try offering a No-Mess Seed Cylinder on a Seed Cylinder Feeder and watch your birds chow down.

It's worth popping into the store after Christmas to check out our Progressive Sale. Starting Dec.26th, selected items will be 20% off. Each day the discount grows by 10% until finally, on Dec. 31, all remaining sale items will be 70% off. Do you buy it now or wait for more savings and take the risk? You decide!
Stop in early for the greatest selection. Stop in later for the greatest savings.
12/26 - 20% OFF
12/27 - 30% OFF
12/28 - 40% OFF
12/29 - 50% OFF
12/30 - 60% OFF
12/31 - 70% OFF
**Valid on in-store purchases only. One discount per purchase. All sales final. No returns, no refunds, no exchanges.

WBU Cranberry Seed Wreath
The Wild Birds Unlimited Cranberry Fare Seed Wreath has become a holiday tradition. The wreath is chock-full of pecans, peanuts, black oil sunflower, sunflower chips, safflower, and cranberries to attract a large variety of birds. It's a wonderful gift for anyone on your list (and for the birds as well)!
From the Feeders



There's a researcher named Ron Pittaway who performs a unique service for ornithologists and birders late every summer when he publishes the Winter Finch Forecast. Ron studies seed crops across North America and, based on their abundance, predicts how certain birds might move in response to the availability of those seeds.
In last winter's BirdTracks, I wrote about how the Red-breasted Nuthatch responded to a widespread failure of seed crops in its normal, northerly wintering range by moving well south of its normal wintering range in search of better food sources. This year, seed and berry crops are abundant across northern latitudes.
This is good news for birds. Abundant food sources usually translate to survivorship. This is bad news for anyone hoping to see irruptive finch movement in Florida this winter.
Ron doesn't say anything about the American Goldfinch in this forecast, probably because it is not considered to be an irruptive species. However, you can see reports of goldfinch observations from the field at www.ebird.org. The Winter Finch Forecast is found here: http://www.jeaniron.ca/2013/forecast.htm.
eBird—An invaluable learning tool
Have you heard about eBird? It is an online tool that helps you track your life lists and lets you see what birds everyone else is seeing all over the world. Want to find out more? Click here for an in-depth introduction to eBird.
Bark Butter for winter species diversity
Bark Butter is a spreadable suet that can be dispensed on tree bark or a plank or branch style feeder. When any tree can be a birdfeeder, it's easier to bring suet into the normal foraging habitat of many species of birds that don't usually visit seed feeders.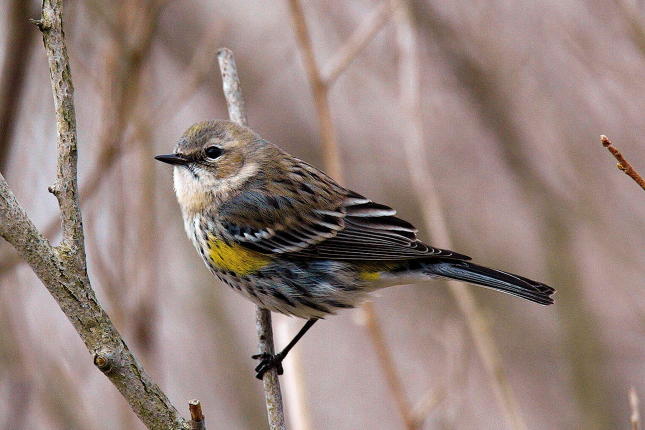 Bark Butter feeders across North America have a cumulative species list of 116 birds. Among the species known to eat Bark Butter are dozens that are possible in your own backyard.
There are many potential feeder birds in and around your yard all winter. Warbler species such as Yellow-rumped and Pine are around all winter but don't typically eat seed. They're much more likely to visit Bark Butter.


Feed The Birds Magnets
Pick up one of our new Feed the Birds automobile magnets and display it proudly. Not only will the whole town be awed by your dedication to feeding birds, you'll constantly be in a lottery for free birdseed.
When Ingrid or I or any of our employees spots a Feed the Birds magnet anywhere around town (except WBU's own lot), we'll leave a business card voucher for a 5# bag of WBU Choice under your windshield wiper. Redeem it whenever you need it.
Backyard Bird Tour
Join Alachua Audubon Society's Backyard Bird Tour on Saturday, February 8, 2014 for an adventure into some of Gainesville's most carefully crafted backyard bird habitats. Find out more here!
Birdy news on Facebook
WBU has a Facebook page for birding and feeder news. Check it out!