Sticking with Suet!
Nine months and six mildew covered suet dough cakes after first putting up our suet feeder, we got our first suet visitor. That first Red-bellied Woodpecker inspired us to be better stewards of the suet feeder and although the activity level increased almost imperceptibly through the winter, we were rewarded in the late spring when activity at the suet feeder increased dramatically. Now, our suet feeder is a core part of our birdfeeder activity around the house. Our experience and the collective birdfeeding savvy of so many customers with similar stories have resulted in the following "truths" about feeding with suet:
Try Stackables and Bark Butter- Birds seem to find suet more readily when it is closely associated with seed. Seed and suet Stackables and Bark Butter have revolutionized suet feeding for us. Stackables allow you to place a suet dough and a seed cake together on the same feeder. That proximity of seed to suet really helps birds find suet much more quickly. Bark Butter is a spreadable suet that you can place on tree bark all around the yard or on specially designed feeders that can be closely associated with your seed feeders.
Persevere- Songbirds find food primarily by sight and suet doesn't seem to look as much like a food source to birds as seed does. Therefore, they take longer to accept it as food.
Clean- Suet is rendered beef kidney fat. Old seed gets stale. Old suet gets rancid. You can scrape some of the mildew off and use what's underneath. Otherwise, change it even if no birds have used it. And don't worry about a melted mess. We only sell suet dough which won't melt in the Florida heat.
Time it- In Florida, suet season begins for most species when nesting activity is at a peak (late spring) and continues throughout the summer. This is the opposite from most of the rest of the continent. If you aren't patient, don't start in the fall when feeder activity plummets.
Kites in Gainesville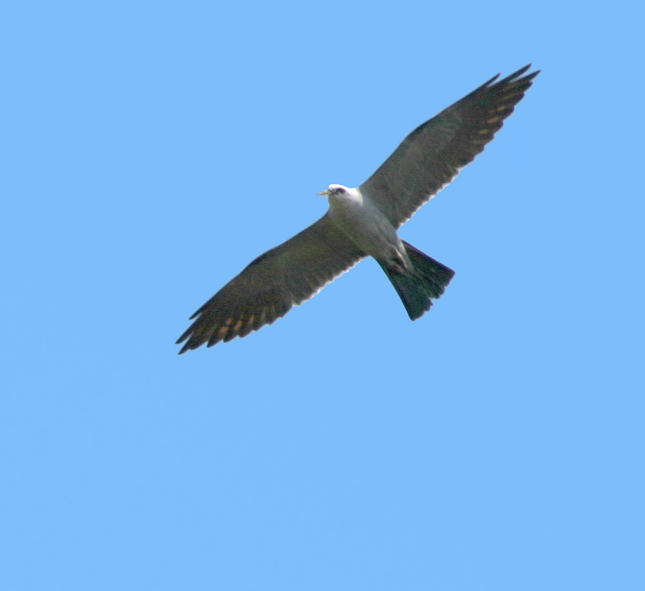 No bird graces the air quite like a kite. Here in suburban Gainesville, we have two species over which to marvel. The Mississippi Kite is the more common since it nests annually in many locations inside of the city but it's a subtle beauty, requiring an observer with keen eyes or good fortune. The Swallow-tailed Kite is less common in town but it's more of a pure "eye catcher" with its deeply forked black tail and white body contrasting against both tail and wings.
Both species are fully migratory. The Swallow-tailed arrives around early March and leaves as early as August. The Mississippi is on a similar schedule but a month or so later. Both species are breathtakingly graceful and their foraging habits bring them consistently near the level of the treetops or lower, obligingly close for an eager observer.
When you have an opportunity to observe a kite at close range, look for the delicate nature of its tail ruddering and how the wing feathers seem to move almost independently from one another while performing the obvious group functions of remaining aloft and changing direction. Kites not only give form to the invisible – the wind, they also texturize it in beautiful detail.
To learn more about both species, click Mississippi Kite and Swallow-tailed Kite or visit www.allaboutbirds.org and search for both species by name. To learn about what one local research institute is doing to conserve the Swallow-tailed Kite in particular, visit the Avian Research and Conservation Institute's website at www.arcinst.org.
Nectar...the Recipe for Perfectly Fun Feeding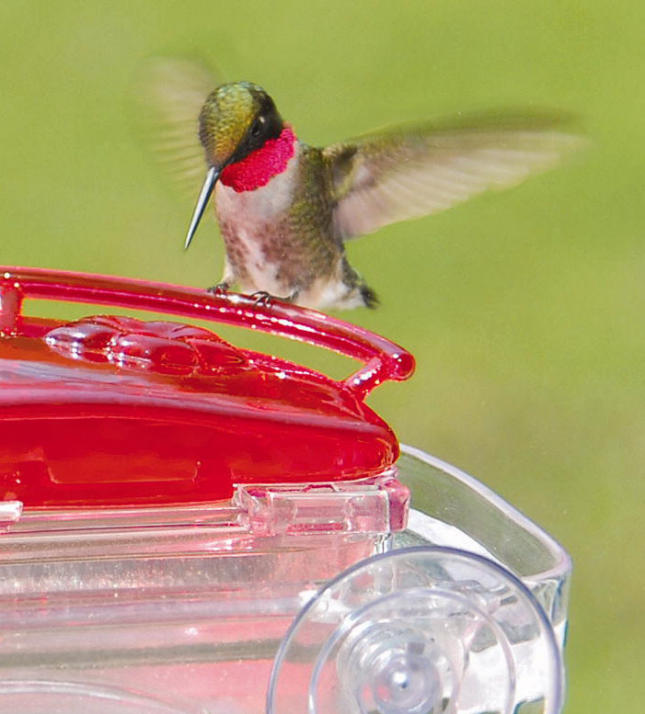 You can help hummingbirds keep their energy level up and attract them to your yard by offering a nectar solution. Mix four parts water and one part ordinary table sugar to create the perfect nectar solution. Example: (4 cups of water, 1 cup of sugar)
Change the nectar and wash your feeder in hot water every three to four days (more often in hot weather). Some of our feeders can even be washed in the top rack of your dishwasher.
If you plan to store nectar in the refrigerator, boil the water first before creating and storing your nectar solution. Never add red food coloring, honey, or artificial sweeteners.
The density of hummingbirds in Florida is a far cry from what we find further north and west. We typically prefer lower volume feeders so that we don't have to waste as much nectar once it starts to go bad. Check out our new four-ounce WBU Window Hummingbird Feeder.
Bird news on Facebook
WBU of Gainesville has a Facebook page for birding and feeder news. Check it out!