Winter Birdfeeding Sale
Save Now through February 1st
15% off Nyjer, Finch Blend, Millet, & White Deluxe Plus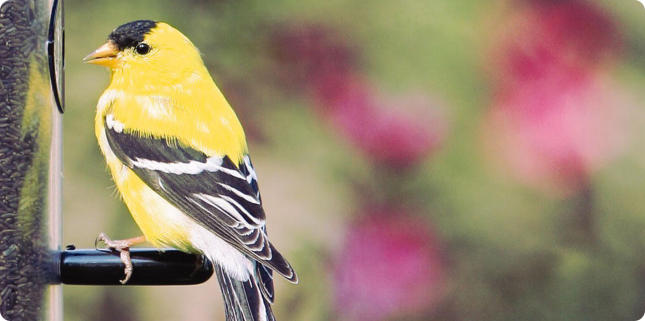 American Goldfinch in mid-winter
In twelve years of operating Wild Birds Unlimited, the only American Goldfinch prediction that we offer with confidence is that feeder activity will increase in late winter. Many people are surprised to learn that goldfinches arrive in Florida as early as October. Goldfinch feeder activity is sporadic until January at which point flocks begin to gradually build. In February, goldfinches make a "false migration" as they leave feeders in favor of newly budded hardwoods. The feeder blitz for which goldfinches are so famous begins a few weeks after this false migration. Goldfinch activity has been very mild this season but it's time to get some Nyjer or Finch Blend in your feeders if you haven't already done so.
Nyjer is the goldfinch's favorite seed during this time of year and is best dispensed in a feeder designed specifically for Nyjer. Finch Blend is a 50-50 mix of Nyjer and fine chips of oil sunflower. The chips allow you to dispense the blend in an all-purpose feeder and it broadens the appeal to other species.
How to Attract Goldfinches
Winter Birdfeeding—Adapt to the changes
With our year-round residents forming winter flocks and shifting their foraging behaviors in favor of natural food sources, birdfeeder activity has been fairly light so far this winter. To be ready for these natural changes in feeder activity, put our best winter birdfeeding practices to use.
Clean your feeders and ration your supplies – Early winter is a time of transition in which most of us see a decline in the total amount of birdfeeding activity until the overwintering birds come in. You need to be ready for the changes but if you don't have enough bird activity to keep the seed moving through the feeders then you need to make sure your feeders will flow now that the birds are finally coming in. If you've experienced a decline in activity then now is the time to give your feeders a thorough cleaning and a partial refill with a fresh seed or seed blend.
Water – As seasonal rains subside so do natural sources of water. Your birdbaths could become much more popular in the drier months. Add a water dripper to draw even more attention to your water source.
Specialty foods – Feeder diversity increases for most of us each winter even if the total amount of activity decreases. Bark Butter is the new staple of cold weather birdfeeding with its ability to draw in flocks of Yellow-rumped Warblers and any species willing and able to cling to a tree branch for a bit of spreadable suet. Nyjer is still the goldfinch's favorite even though sunflower chips seem to be as popular in the early part of the season. Millet is your best bet for Chipping Sparrows and the elusive but legendary Painted Bunting. Grapes, orange halves, jellies, nectar, suet, peanuts, and chopped tree nuts are all on the menu for Baltimore Orioles and make you a better candidate for a rarity such as Summer or Western Tanager.
Hummingbirds are nectar specialists, of course, although our Ruby-throateds have almost all left for the winter. There are always at least a couple dozen hummingbirds reported in the area every winter. Most of those are Rufous Hummingbirds, a cold-hardy species that breeds in the Pacific Northwest. Your chances of hosting an overwintering hummingbird are slim but they're certainly better if you keep a nectar feeder up.
Winter Break for Goldfinches
Don't take down those finch feeders yet! This happens every year just usually not this early. We don't know exactly what is going on with the American Goldfinch but every year when the hardwoods begin to bud out in mid winter (usually February), goldfinches depart temporarily from feeders in favor of whatever else is going on out there.
Many people believe that migration has begun. It hasn't.

...

If you take the feeders down now, you'll miss much of the glory that is just around the corner. At some point within a month or so, the goldfinches will return to your feeders and they will return with a vengeance. The numbers and rate of seed consumption goes up and up until the migration finally does begin in late March. Goldfinches begin to molt before they migrate. As feeder activity increases after their return, color becomes more and more vibrant as molt progresses.
Bird news on Facebook
WBU of Gainesville has a Facebook page for birding and feeder news. Check it out!