The Great Backyard Bird Count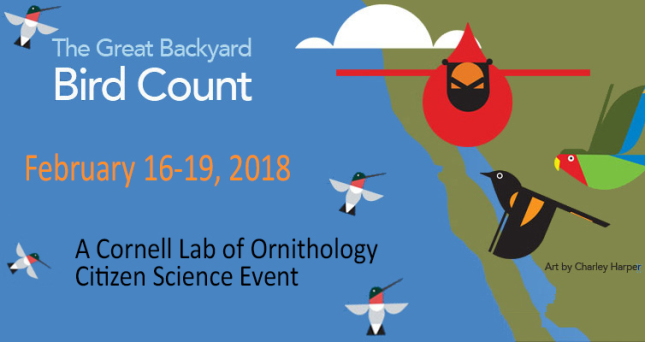 Much of the best bird science is derived from data provided by backyard observers and avid birders in the field. You don't have to have a degree in ornithology to provide meaningful data about birds. Organizations like the Cornell Laboratory of Ornithology are composed of experts who take data provided by amateur observers and draw solid scientific conclusions about birds, bird populations, bird behavior, and more. On top of all that, they provide a lot of the raw data and the scientific conclusions drawn from that data back to the observers who provided it. That's right, you get to provide data to experts who use their training to perform scientific research, and then the data is given back to you in a user-friendly format.
The Great Backyard Bird Count (GBBC) is one of the simplest and best ways to contribute to this wonderful world of citizen science. For instructions on how to create a GBBC account and submit data from February 16-19, click here.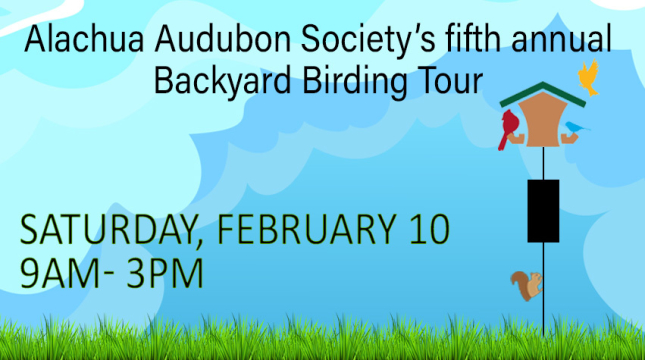 Only two days left until Alachua Audubon Society's Fifth Annual Backyard Birding Tour. Enjoy this self-guided tour of six of Gainesville's premier backyard birding habitats. See what these hard-working homeowners have done to make their yards as hospitable as possible to birdlife and other wildlife. Tickets are $12/person and are available only at Wild Birds Unlimited. On the day of the event, you may purchase a ticket at any of the six backyards on the tour.

An Audubon representative will be available at each home to help with traffic flow and to answer basic questions.