Goldfinches and Feeders - a deeper look
One of the great misconceptions about birdfeeding in Florida is that the American Goldfinch doesn't migrate into the region until late winter.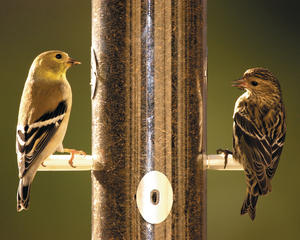 In fact, goldfinches began to arrive in Florida as early as October and numbers have been building consistently ever since. Many of you have been reporting at least a few goldfinches at your feeders for a month or more now and many others have been hearing and seeing them in the canopy above your yard even though they have yet to come down to your feeders.
In all likelihood, that will happen soon and in a big way. We don't know exactly why goldfinches don't come to feeders in big numbers until much later in the season but we have strong indications that it is mostly due to two factors. One, goldfinches seem to prefer natural sources of seed and so are more commonly found in areas such as Paynes Prairie or in the diverse hardwood floodplains of rivers. Two, goldfinches tolerate cold very well and linger north of us until temperatures become particularly severe.
So, as winter rolls on into Florida so do the goldfinches and as natural seed sources become more scarce goldfinches become more interested in your feeders. If you put out seed in hopes of attracting goldfinches early in the season, you need to replenish it with fresh seed now. Certainly, you don't stand a very good chance of getting finch activity if your seed has become stale or rancid.
Another great mystery in goldfinch feeding occurs about a month after they finally form persistent feeder flocks. Goldfinches depart from feeders for about two weeks in February. Again, we don't know why this happens but those of us who erroneously believe that it's because they migrated back to their breeding grounds will sorely regret taking the feeders down. When goldfinches return to feeders from this short hiatus, they have begun their molt and gradually turn from drab to calico to brilliant yellow as the feeder flocks grow and feeding activity intensifies even further.
So, don't let your feeders sit idly with stale or rancid seed any longer. Now is the time to freshen the feeders up and give goldfinches another shot. Be prepared for the February pause. They come back with a vengeance. So what should you feed these feisty little birds? A little black seed called Nyjer. More information on this seed click here.
Pine Siskins - watch for rarities
Watch your American Goldfinch flocks for Pine Siskin. We don't have siskins in Florida every winter but this year large numbers of siskins have pushed well south of their normal winter territory. This winter in Florida, they have occurred well south of Gainesville and have been reported from feeders a few times. Birders have been regularly reporting a Pine Siskin around the LaChua sink in Paynes Prairie since early December.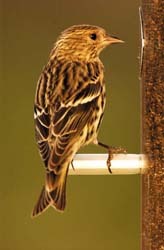 If you don't look over your goldfinch flock with some care, then it would be easy to miss a Pine Siskin. They are almost exactly the same size and proportions as an American Goldfinch and are nearly the same colors. The most easily recognized differences are as follows:
Siskins are heavily streaked with brown on their heads, backs, breasts, and bellies.

Siskins have small patches of yellow in their wings and at the base of their tails.

Siskins have noticeably smaller bills.
If you believe that you have seen a Pine Siskin, please try to take a photograph or make good notes about your observation. Then, call the store or just drop in so that we can have a look. You observations are important. The information that you relate to us is often passed on to the next level of ornithological data management. Over time, those data affect what we know about the status and distribution of birds.